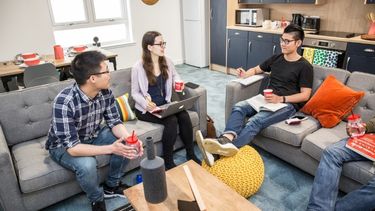 Progress onto Master's degrees accredited by ACCA, AIA, and AACSB.
Pre-Master's Leading to Accounting and Finance
The ICRGU 10-week Pre-Master's programme is specifically designed for seamless progression onto Robert Gordon University's Master's degrees. Created in partnership with RGU, this course will provide you with the skills, knowledge and focus needed to succeed at MSc level – helping you to develop a proactive and self-managed approach to your studies.
MSc Degrees Available
The is a conversion Master's course, ideal if you have a first degree in another subject and now wish to develop a career in accounting and finance. You will graduate as an independent thinker, ripe for a rewarding career in the accounting sector – within banking and financial institutions or in corporate finance.
Available intakes: February and June
Find out more: MSc Accounting and Finance
This course will develop your analytical skills for addressing financial management challenges in the domestic and international business environments. Upon graduating, you will be ready for roles in the following:
Financial institutions
Stock broking
Investment and portfolio management
A company's treasury or corporate finance department
Available intakes: February, June and October
Find out more: MSc Financial Management
Programme Details
Interactive Learning Skills and Communication
You will develop the academic and communication skills needed for success in postgraduate-level study. You will gain independent learning skills and learn to take responsibility for your personal, academic and professional development.
Management
You will build on your existing knowledge to demonstrate your understanding of the skills and techniques that can be applied to a variety of management problems.
Critical Thinking
You will develop a range of critical thinking skills that will enhance your success at postgraduate level.
RGU's Accounting and Finance degrees are accredited by a wide range of professional bodies, including:
You may also apply for exemptions from the professional examinations of:
Campus Facilities
Robert Gordon University's beautiful riverside campus provides the perfect learning environment. Take a tour of our industry-standard facilities and find out what we have to offer.
Tour the Campus