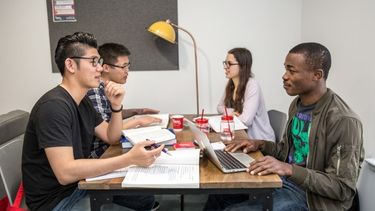 Pursue a rewarding career in Accounting and Finance with an accredited degree from Robert Gordon University.
Undergraduate Pathway in Accounting and Finance
Robert Gordon University is ranked 27th in the UK for Accounting and Finance (The Times 2023)
BA (Hons) Accounting and Finance is accredited by:

The Institute of Chartered Accountants of Scotland (ICAS)
AACSB International (an accolade achieved by only 5% of global Business Schools)
The Business Graduates Association (BGA)
Small Business Charter (SBC).

The degree also receives excellent exemptions from:

The Association of Chartered Certified Accountants (ACCA)
The Association of International Accountants (AIA)
The Chartered Institute of Management Accountants (CIMA).
Degrees Available
You will learn about the key business disciplines such as management accounting, financial reporting, tax, audit, and ethics. The University has established links with professional bodies and employers, ensuring course content remains relevant. The paid placement opportunity in Year 3 will provide you with valuable industry experience and, in some cases, can enable you to qualify as a Chartered Accountant with the Institute of Chartered Accountants of Scotland (ICAS) faster than other Accounting and Finance graduates.
Find out more: BA (Hons) Accounting and Finance
Programme Details
Interactive Learning Skills and Communication
You will develop the academic and communication skills needed for success in Higher Education. You will gain independent learning skills and learn to take responsibility for your personal, academic and professional development. You will also learn how to use a range of digital technologies.
Business Perspectives
You will develop an understanding of the underpinning theories and contemporary practices relating to business and management within today's changing business environment.
Financial Accounting
This module provides an introduction to financial accounting by identifying the basic principles of accounting theory and practice. You will learn how to prepare an extended trial balance, an income statement, and statement of financial position of corporated and unincorporated organisations.
Personal and Business Finance
This module will explore many topics, including the following:
Loans
Mortgages
Savings
Pensions
Insurance
Introduction to Economics
This module will define the fundamental economic principles and concepts. You will learn how to identify economic theories and express these through economic analysis of the private, public, national and international sectors.
People Management
This module will explore many topics, including the following:
The nature of work and the employment relationship
The impact of the psychological contract on the employment relationship
The role of the HR function
How globalisation has affected HR policies and practices
Effective change management techniques
Management Accounting
During this module, you will explore key concepts and techniques used in management accounting. Topics covered will include:
Preparation of budgets and cash flow forecasts
Cost-volume-profit analysis
Cost assignment
Approaches to costing
Business Law
This module will define the domestic legal framework within which businesses operate and transact finance. You will gain an understanding of the law relating to business organisations, including sole traders, partnerships and companies. You will also explore law of contract: establishing contractual obligations and contractual breakdown.
In addition to meeting the minimum ICRGU Academic Entry Requirements, students applying for the Accounting and Finance programme are required to hold a high school qualification in Maths or Accounting.
Placement Opportunity
Credit-Bearing Internship in Year 3
Unique in Scotland to Robert Gordon University, the 48-week internship in Year 3 is a fantastic opportunity for you to gain practical, professional experience in an accounting or finance position.
You will earn a salary during this year and pay reduced course fees. You will be fully supported in finding an internship in the UK and will be offered CV advice and mock job interviews.
This is an great chance to build a strong knowledge base and network of contacts that can help your future career. Throughout this credit-bearing placement, you are expected to continue developing your academic knowledge.
Find out more
Campus Facilities
Robert Gordon University's beautiful riverside campus provides the perfect learning environment. Take a tour of our industry-standard facilities and find out what we have to offer.
Tour the Campus