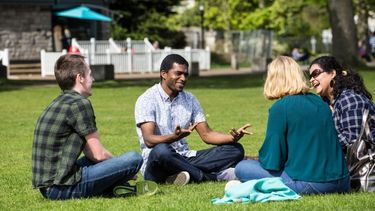 Progress to an undergraduate degree at the Business School of the Year 2020.
Undergraduate Pathway in Business and Management
This ICRGU programme provides seamless progression onto your choice of 10 degrees at Robert Gordon University's award-winning Business School.
Aberdeen Business School, named Business School of the Year 2020 (THE Awards 2020), is accredited by AACSB International – an accolade achieved by only 5% of global business schools.
RGU is ranked 30th in the UK for Business, Management and Marketing (The Times 2023).
The University is ranked 1st in the UK for course satisfaction in Business, Management and Marketing (Guardian University Guide 2022).
Programme Details
Interactive Learning Skills and Communication
You will develop the academic and communication skills needed for success in Higher Education. You will gain independent learning skills and learn to take responsibility for your personal, academic and professional development. You will also learn how to use a range of digital technologies.
Marketing
The module will cover the concepts and principles of marketing, helping you to define effective marketing practices. Topics will include:
Development of the marketing concept
Market segmentation
Buying behaviour of individuals/organisations
Methods of market research
Branding
Business Perspectives
You will develop an understanding of the underpinning theories and contemporary practices relating to business and management within today's changing business environment.
The Financial Environment
This module will help you understand and apply basic mathematical knowledge and accounting principles. Topics covered will include:
The basic principles of accounting theory and practice
The significance of financial statements
Analysis and interpretation of financial statements
People Management
You will develop your understanding of the influences on employment relationships and how to define effective people management practices. Topics will include:
The impact of the psychological contract on the employment relationship
The role of the HR function
Effective change management techniques
Introduction to Economics
This module will help you define the fundamental economic principles and concepts. You will also learn how to identify economic theories and express these through economic analysis of the private, public, national and international sectors.
International Management
This module will provide you with an awareness of diversity in the contemporary workplace, equipping you with the skills needed to tackle management in a global setting.
Digital Context of Business
This module will support you to discuss new developments in digital technology and data analysis and their application within the business environment.
Sustainable Business
This module will help you develop a critical understanding of the problems of sustainable development, including:
The climate and nature crises
Intertwined issues of equality, justice, and human rights.
You will learn how organisations can respond to these challenges by embedding sustainability into their strategy and operations.
Employability
Unique in Scotland to Robert Gordon University, the 48-week internship in third year is a fantastic opportunity for you to gain practical, professional experience in a business environment.
You will earn a salary during this year and pay reduced course fees. You will be fully supported in finding an internship in the UK; you will be offered CV advice and mock job interviews.
This is an excellent chance to build a strong knowledge base and network of contacts that can help your future career prospects. Throughout this credit-bearing placement, you will continue to grow your academic knowledge through two carefully developed modules.
Contracts Analyst
Human Resources Officer
Marketing Executive
Recruitment Consultant
Sales Manager
Placements
A work placement is a great opportunity to boost your career prospects. RGU's degrees offer a valuable combination of academic rigour and practical experience.
Find out more
Campus Facilities
Robert Gordon University's beautiful riverside campus provides the perfect learning environment.
Located in the heart of the campus is the Georgina Scott Sutherland Learning Centre – RGU's newest open study space. The Digital Suite, housed within the Aberdeen Business School, includes a suite of iMacs and is used by a variety of subject areas across the University.
Take a tour of our industry-standard facilities and find out what we have to offer.
Tour the Campus