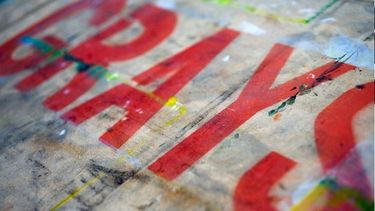 Through studying with Gray's School of Art, you will join a collaborative community led by practising artists, designers and researchers.
Undergraduate Pathway in Art and Design
Gray's School of Art is an influential multidisciplinary Art School that has been leading and defining culture and industrial development for over 130 years.
RGU is ranked 1st in Scotland for graduate prospects in Art (Guardian University Guide 2022) and 30th in the UK for Fine Art (Guardian 2023).
The staging of exhibitions both within the School and at external venues will be key in developing your professional skills.
Programme Details
Interactive Learning Skills and Communication
You will develop the academic and communication skills needed for success in Higher Education. You will gain independent learning skills and learn to take responsibility for your personal, academic and professional development. You will also learn how to use a range of digital technologies.
Drawing and Visualisation (1 & 2)
The module will introduce the practical and theoretical aspects and use of drawing and visualisation, which may include the following topics:
Formal and experimental 2D/3D drawing
Visualisation processes
Problem-solving and creative thinking
Observation analysis, composition, proportion and measurement.
Creative Principals & Methods
This module will develop your understanding of the following:
The principles and methods relevant to 2D and 3D practice within both Fine Art and Design
Critical and evaluative skills in relation to contemporary Fine Art and Design practice
The responsibilities of independent thinking and learning.
Contextual and Critical Studies
During this module, you will be introduced to visual material cultures and their relation to Art and Design practice. You will develop core skills in:
Research
Analysis
Independent critical thinking
Synthesis
Communication
You will be encouraged to make links with your emerging studio projects and activities.
Core Design Studies
This module will build on your existing knowledge and introduce new processes, techniques and concepts. Studio projects will be supported by practical workshop experience and technical demonstrations. Key to this module is engaging in exhibition and studio visits, and a Study Trip is available to facilitate this.
Academic Requirements
In addition to meeting the minimum ICRGU Academic Entry Requirements, you will preferably hold a high school qualification in Art and Design.
Evidence of Artistic Ability
Applicants are required to submit evidence of artistic ability. You may wish to submit a portfolio or can, alternatively, undertake the Artistic Evaluation.
Applicants will receive an email containing guidance on both the portfolio and the Artistic Evaluation, along with instructions on submission for assessment.
Placements
Placements give you the opportunity to apply the skills you have developed to a real-world situation and learn from working alongside professionals. All of RGU's Art and Design undergraduate courses offer industry placements or work experience opportunities.
RGU's Design courses have an optional 12-week placement module in semester 2 of stage 3 of study.  These placements will be with local, national and internationally based companies related to the course of study or with cultural and creative industries organisations.
RGU's Fine Art courses offer students the opportunity to undertake a period of work-based experience with partners and organisations from across the cultural and creative industries sector. These work-based experiences are usually 4-week periods.
Find out more about RGU Placements
Campus Facilities
Gray's School of Art students have access to dedicated studio spaces and a full range of analogue and digital workshops, including:
Photographic darkroom and studios
Ceramics and jewellery workshops
Digital video editing lab
Printmaking and fashion manufacturing facilities.
With these tools, students are able to practise the best traditional processes as well as using digital manufacturing tools such as laser cutters, 3D scanners, fabric printers, 3D and direct to media printers.
Take a tour of our industry-standard facilities and find out what we have to offer.
Tour the Campus