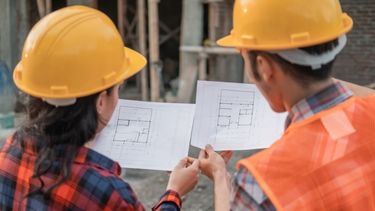 Progress onto an accredited degree at Robert Gordon University from our dedicated Pathway in Surveying.
Undergraduate Pathway in Surveying
Robert Gordon University is ranked 9th in the UK for Building (The Times 2023).
The University is also ranked 28th in the UK for Construction, Surveying and Planning (The Guardian 2023).
There is a dedicated Surveying and Construction Management Studio on campus for you to use throughout your studies.
Degrees Available
Want to develop your career in the financial management and leadership of projects within the built environment? If so, this degree is for you. You will be able to gain essential experience with an industrial placement in Year 3, and you will have the opportunity to progress towards becoming a Chartered Surveyor.
Find out more: BSc (Hons) Quantity Surveying and Commercial Management
Programme Details
Building Design
This module will teach you how to recognise the factors which shape the design of simple low−rise, domestic-scale buildings.
Building Technology
You will learn about the basic structural principles in relation to forces and loads applied to buildings of domestic scale. Topics covered will include:
Tension, compression, bending, shear and deflection
Principles of timber frame construction
Integration of structural principles with construction methods
Built Environment Communication
This module will help you apply effective communication and study skills in a built environment context. You will develop the personal and interpersonal skills required in the built environment through practical investigations, analysis, and modelling.
Surveying Methods
This module covers the principles and procedures used in land surveying and measured building surveys. Topics will include basic mathematical skills of geometry and trigonometry taught in the context of area and volume calculations.
Economics for the Built Environment
Through this module, you will develop a basic understanding of economic principles and  analysis in the context of the built environment. Topics covered will include:
The basic economic problem of scarcity and choice
The Built Environment market model
Costs, revenue and profit maximisation
Different competition policy and market structures
Resources
Detailing and Specification
You will learn how to prepare, read and interpret architectural drawings, schedules of work and specifications. The module will focus on formal architectural drafting of domestic-scale buildings and their associated construction detailing and specification.
Interactive Learning Skills and Communication
You will develop the academic and communication skills needed for success in Higher Education. You will gain independent learning skills and learn to take responsibility for your personal, academic and professional development. You will also learn how to use a range of digital technologies.
In addition to meeting the minimum ICRGU Academic Entry Requirements, students applying for the Surveying programme are required to hold a high school qualification in Maths and a Science.
Employability
In Semester 2 of Year 3, you will have the opportunity to extend your learning in the workplace through an industrial placement with an employer. You will then return for your fourth year, resulting in a Bachelor's degree with honors.
Construction Manager
Project Manager
Building Surveyor
Quantity Surveyor
Property Developer
Placements
A work placement is a fantastic opportunity to boost your career prospects. RGU's degrees offer a valuable combination of academic rigour and practical experience.
Find out more
Campus Facilities
Robert Gordon University's beautiful riverside campus provides the perfect learning environment. Take a tour of our industry-standard facilities and find out what we have to offer.
Tour the Campus