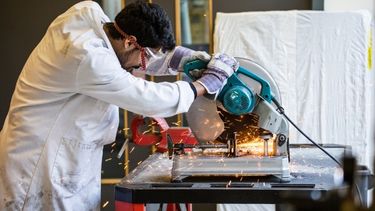 Situated in the energy capital of Europe, Robert Gordon University is the perfect choice for your Engineering studies.
Undergraduate Pathway in Engineering
The University works closely with local, national and international companies to meet the demands of employers. The School of Engineering is involved in all aspects of current engineering practices, as well as challenges facing the industry.
RGU was recognised as a top modern university in Scotland for Electrical & Electronic Engineering and for graduate prospects in Mechanical Engineering (The Times and Sunday Times Good University Guide 2022).
Students have access to a wealth of purpose-built facilities, including:

DART Simulator
Electrical Power Laboratory
Nanocomposite Manufacturing Facility
Offshore Platform Model
Wave Tank
Wind Tunnel
Programme Details
Statics and Dynamics
In this module, you will learn to recall and describe the basic concepts and theories of applied mechanics.
Introduction to Electrical Engineering
This module will provide you with an understanding of electrostatic and electromagnetic concepts and the principles of electric circuit analysis.
Mathematics
You will learn how to define and apply introductory-level mathematics to engineering problems.
Thermofluids*
You will learn to recall and describe the basic concepts of thermofluids.
Introduction to Digital Electronics and Microcontrollers**
You will learn how to describe and utilise digital electronic devices, circuits and systems, and to carry out analysis of simple digital circuits. You will also learn how to develop, test and document structured software in a high-level language to solve engineering problems.
Introduction to Analogue Electronics and Signals**
This module will provide an overview of common semiconductor devices used in analogue electronics. You will develop basic skills in the design and analysis of fundamental analogue circuits.
Design, Manufacture and Development*
You will develop fundamental skills in the principles of the engineering design process for product development. By the end, you will be able to describe the skills used in the manufacture of engineering systems.
Interactive Learning Skills and Communication
You will develop the academic and communication skills needed for success in Higher Education. You will gain independent learning skills and learn to take responsibility for your personal, academic and professional development. You will also learn how to use a range of digital technologies.
** Electronic and Electrical students only
* Mechanical Engineering students only
In addition to meeting the minimum ICRGU Academic Entry Requirements, students applying for Engineering programmes will need to hold high school qualifications in Maths and Physics.
Employability
Robert Gordon University's BEng degrees are accredited by various professional bodies, including:
Communications Engineer
Drilling Engineer
Electrical Engineer
Mechanical Engineer
Subsea Engineer
Campus Facilities
Robert Gordon University's beautiful riverside campus provides the perfect learning environment. Some of the purpose-built facilities available to Engineering students include:
Engineering Applications Labs, perfect for practical work in Year 1 and 2
The Electronic Laboratory, great for learning about analogue and digital circuits
RGU's custom-built Wave Tank, often described as a 'slice of ocean'
Our Wind Tunnel, used for experimental procedures and hands-on learning.
Take a tour of our industry-standard facilities and find out what we have to offer.
Tour the Campus