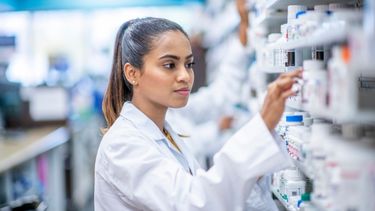 Benefit from practical experience in hospital and community pharmacies, laboratory work, and the on-campus Pharmacy Simulation Centre.
Foundation Leading to Pharmacy
Robert Gordon University is ranked 11th in the UK for Pharmacy and Pharmacology (The Guardian 2023).
RGU was also ranked 2nd in Scotland for overall student satisfaction in Pharmacy (National Student Survey 2022).
You can practise your skills in the following facilities before heading out on placement:

Chemistry, formulation, biomedical and microbiological laboratories
Pharmacy Simulation Centre
Clinical Skills Centre.
Apply today and begin your journey towards a career that makes a difference.
Degree Programmes Available
This degree is accredited by the General Pharmaceutical Council (GPhC). You will gain knowledge and skills to deliver the best pharmaceutical care for patients, underpinned by sound scientific principles. Topics you will learn about include:
How the body works

The effects of disease

How drugs are made, administered, and their impact on the body

Ensuring patients get maximum benefits from medicines with minimum side effects
Find out more: MPharm Pharmacy
Programme Details
Mathematics
The module will provide you with the skills needed to apply numerical processes in relation to pharmacy and life sciences.
Chemistry
You will increase your understanding of basic chemistry, chemical processes, and organic chemistry. You will also learn the key concepts of physical and analytical chemistry, with an understanding of the instruments used.
Biology
This module will explore the basic biological processes, with a focus on animal and plant biology. You will learn how to define the scientific processes in terms of research principles (such as quantitative and qualitative evidence), and you will develop your understanding of biological-related terminology.
Practical Skills
You will begin this module with sessions to develop your computing skills, and you must pass the assessment in order to continue with the module. Next, you will learn to work safely and effectively in a laboratory setting whilst observing the health and safety protocols.
Interactive Learning Skills and Communication
You will develop the academic and communication skills needed for success in Higher Education. You will gain independent learning skills and learn to take responsibility for your personal, academic and professional development. You will also learn how to use a range of digital technologies.
In addition to meeting the minimum ICRGU Academic Entry Requirements, students applying for the Pharmacy programme will need to hold high school qualifications in Maths and Chemistry.
Additional Information
Applicants should note that the General Pharmaceutical Council's Standards for Pharmacy Professionals applies to pharmacy students throughout their journey towards registration and practice. Offers of a place on the MPharm course are subject to compliance with these standards and a satisfactory Good Health and Good Character declaration.
EU or overseas students will need to obtain their country's equivalent (such as police verification of good conduct) prior to commencing the MPharm at Robert Gordon University.
Applicants to the course will be required to undertake an online activity which will then be the focus of a follow-up interview with an academic member of staff.
General Pharmaceutical Council Standards for Pharmacy Professionals apply from the point of application and throughout a student's journey to becoming a registered pharmacist. Entry requirements are subject to compliance with the GPhC's Standards for Pharmacy Professionals and a satisfactory declaration of good health and good character.
On graduation, provided students comply with the GPhC's Standards for Pharmacy Professionals, they will be eligible to undertake a foundation training year. At the end of this training year, students will have had to demonstrate various competencies and pass a registration assessment to be eligible to apply for registration with the General Pharmaceutical Council as a Pharmacist.
Please note: Completion of this programme does not guarantee registration or annotation with the GPhC, or of future employment.
Campus Facilities
Robert Gordon University's beautiful riverside campus provides the perfect learning environment.
The Pharmacy Simulation Centre can be found in the Sir Ian Wood Building and is designed to resemble a real-life Pharmacy.
The Clinical Skills Centre is situated in the Ishbel Gordon Building. It has a number of different rooms and laboratories purposefully designed to practise clinical skills.
Take a tour of our industry-standard facilities and find out what we have to offer.
Tour the Campus