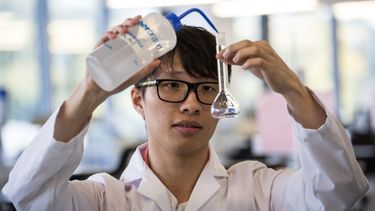 This programme will equip you with the knowledge and skills you need to succeed on your chosen degree in life sciences.
Foundation Leading to Life Sciences
Robert Gordon University's Life Sciences degrees are made up of 30-40% practical experience, making graduates highly desirable to employers.
RGU is ranked 11th in the UK for Forensic Science (The Guardian 2023).
RGU is ranked 21st in the UK for Food Science (Complete University Guide 2023).
Apply today and begin your journey towards a career that makes a difference.
Programme Details
Biology
This module will explore the basic biological processes, with a focus on animal and plant biology. You will learn how to define the scientific processes in terms of research principles (such as quantitative and qualitative evidence), and you will develop your understanding of biological-related terminology.
Mathematics
The module will provide you with the skills needed to apply numerical processes in relation to life sciences.
Chemistry
You will increase your understanding of basic chemistry, chemical processes, and organic chemistry. You will also learn the key concepts of physical and analytical chemistry, with an understanding of the instruments used.
Practical Skills
You will begin this module with sessions to develop your computing skills, and you must pass the assessment in order to continue with the module. Next, you will learn to work safely and effectively in a laboratory setting whilst observing the health and safety protocols.
Interactive Learning Skills and Communication
You will develop the academic and communication skills needed for success in Higher Education. You will gain independent learning skills and learn to take responsibility for your personal, academic and professional development. You will also learn how to use a range of digital technologies.
In addition to meeting the minimum ICRGU Academic Entry Requirements, students applying for the Life Sciences programmes are required to hold high school qualifications in specific subjects.
To study Biomedical Science or Applied Bioscience, you will need to hold high school qualifications in Maths and Biology.
To study Nutrition or Forensic Science, you will need to hold high school qualifications in Maths and Chemistry.
Campus Facilities
Robert Gordon University's beautiful riverside campus provides the perfect learning environment, featuring the following purpose-built facilities:
Analytical Science Laboratory
Cell Culture Laboratory
Food Handling Laboratory
Forensic Imaging Laboratory
Crime Scene House
Take a tour of our industry-standard facilities and find out what we have to offer.
Tour the Campus