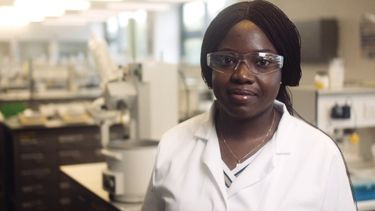 Foundation Health Sciences
Robert Gordon University's Health Science degrees are approved by several professional bodies, including the British Dietetic Association and the World Federation of Occupational Therapists.
Key Information
Foundation Leading to Health Sciences
Robert Gordon University is ranked:
2nd in the UK for Physiotherapy (The Times 2023)
5th in the UK for Radiography (The Times 2023)
13th in the UK for Counselling, Psychotherapy & Occupational Therapy (Complete University Guide 2023)
21st in the UK for Food Science (Complete University Guide 2023)
Apply today and begin your journey towards a career that makes a difference.
Programme Details
Interactive Learning Skills and Communication
You will develop the academic and communication skills needed for success in Higher Education. You will gain independent learning skills and learn to take responsibility for your personal, academic and professional development. You will also learn how to use a range of digital technologies.
Mathematics
The module will provide you with the skills needed to apply numerical processes in relation to health sciences.
Chemistry
You will increase your understanding of basic chemistry, chemical processes, and organic chemistry. You will also learn the key concepts of physical and analytical chemistry, with an understanding of the instruments used.
Biology
This module will explore the basic biological processes, with a focus on animal and plant biology. You will learn how to define the scientific processes in terms of research principles (such as quantitative and qualitative evidence), and you will develop your understanding of biological-related terminology.
Practical Skills
You will begin this module with sessions to develop your computing skills, and you must pass the assessment in order to continue with the module. Next, you will learn to work safely and effectively in a laboratory setting whilst observing the health and safety protocols.
Principals and Concepts of Health Improvement and Promotion
This module will develop the knowledge and skills appropriate for entry level to Allied Health Professional Courses, together with an understanding of Health Care concepts appropriate for Health Care.
Skills for Healthcare
This module will help you develop the following:
An understanding of healthcare concepts appropriate to the underpinning of healthcare
A person-centred, team-focused approach in a Health and Social Care environment.
In addition to meeting the minimum ICRGU Academic Entry Requirements, students applying for Health Sciences are required to hold specific subjects from high school.
The academic subjects required for the undergraduate degree programmes are detailed below.
Physiotherapy – Two of the following: Maths, Chemistry, Biology or Physics.
Radiography –  Two of the following: Maths, Chemistry, Biology or Physics.
Occupational Therapy – Maths and one of the following: Chemistry, Biology or Physics.
Dietetics – Chemistry.
Interview Requirements
Students applying for the University Foundation leading to these Health Sciences programmes will need to pass an online video interview assessment with the School of Health Sciences prior to receiving a final offer.
HCPC Registration Post-Graduation
Students wishing to apply to register for the Health and Care Professions Council after graduation will be required to submit evidence of a valid IELTS 7.0 (with no band below 6.5) or equivalent, if their first language is not English. Details on all registration requirements after graduation can be found here: www.hcpc-uk.org/registration
Police Check Requirements
Students of this course will be required to provide the appropriate criminal record checks from their home country prior to enrolment at RGU. Students are required to obtain this prior to travel from their home country.
The following course-related costs are not included in the course fees:
The cost of books that you may wish to purchase
Costs associated with your placement / study abroad
Accommodation and living costs
Printing
Accommodation and travel: £1,000 approximately to cover potential accommodation and travel costs incurred during practice placements. Placements may take place anywhere in the country.
Protection of Vulnerable Groups clearance: £60 approximately – please note this is currently covered by Scottish Government but agreed on an annual basis
Student membership of professional body
At the beginning of your course and during all practice placements, you may be required to purchase and wear an official uniform. Where uniforms become damaged or for any other reason unsuitable, you are responsible for the cost of the replacement.
Costs associated with health checks which are variable depending on needs, but online screening is essential:

Online Health Screening – £22.70
Additional Health Screening – £48.70 / £72.20
Hepatitis B Vaccination x 3 – £26.60 each
Hepatitis B Blood Titre Test – £32.00
TB Mantoux Test / BCG Vaccination – £33.00 / £24.00
MMR Vaccination x 2 – £22.45 each
MMR Blood Test – £31.00
Varicella Blood Test / Vaccination – £21.00 / £33.00
Facilities
At Garthdee Campus, RGU provides access to volunteer patients, a wide range of equipment commonly encountered in practice, as well as the following purpose-built facilities:
Human performance lab
Functional capacity lab
X-ray suite
Physiotherapy practical rooms
Ward settings
Intensive care room
Occupational Health Home Setting
Food handling lab
Our beautiful riverside campus provides the perfect learning environment. Take the tour and see what we have to offer.
Tour the facilities
What is an Integrated Master's?
This foundation programme provides seamless progression onto one of four integrated Master's programmes. These degrees are slightly different to standard Bachelor's degrees.
Find out more